Why Use Private Healthcare Advisers?
Private healthcare, either for companies or individuals, can be complex.
Being Independent means we can search the market and find the right scheme for you or your company.
We want you to have the freedom to make your own choices. Even if you already have private healthcare we could be able to help you save money and offer you a more appropriate cover.
We're proud to have won The Right Mortgage Networks, Top PMI Firm for 3 years in a row.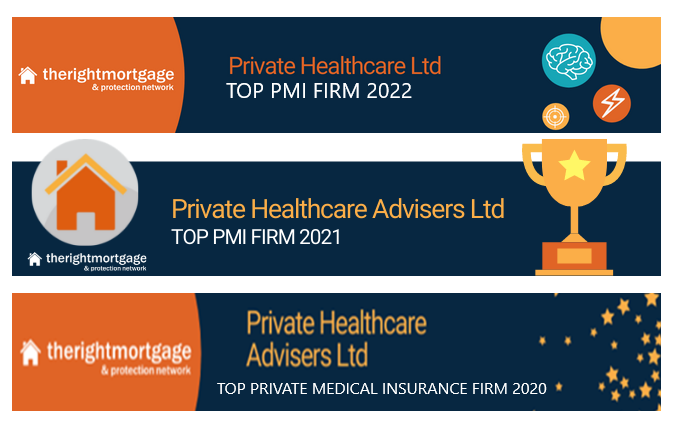 We offer quality, free and independent advice.
Experience in Private Healthcare – Established in 2003
We deal with all the major providers including: BUPA, AXA Health, Aviva, Vitality Health and many more
We offer a FREE, friendly advice – we can review the market and find the most suitable product offering for you and your needs
We're regulated by the Financial Conduct Authority – Private Medical Insurance advice you can trust.
Why Choose us?
We aim to save you money – We will review the market and find the right policy for you.
We are free – our services are completely free of charge with no upfront or hidden charges.
We are impartial – we search the market including: BUPA, AXA Health, Aviva, Vitality Health and many more.
We keep it simple – we remove the complexity out of insurance by explaining everything in plain English.
We offer a personal service – you will deal directly with a named Adviser who understands your needs.

PRIVATE MEDICAL INSURANCE
INTERNATIONAL HEALTH INSURANCE
CORPORATE AND GROUP HEALTH INSURANCE
What We Do?
We specialise in helping individuals and businesses find the right health insurance policy.
We are a local team based on the south coast. We are pleased to say that we are not in some far away call centre. We believe in the personal touch and deal with all our clients on a one to one basis.  You will deal with a named advisers who will help you from start to finish.
We are independent and impartial and can give you advice to help select the right policy for you.
Our goal is simple. We want to offer free, friendly and independent advice on Private Healthcare.
Advice for you.
We provide FREE independent advice.